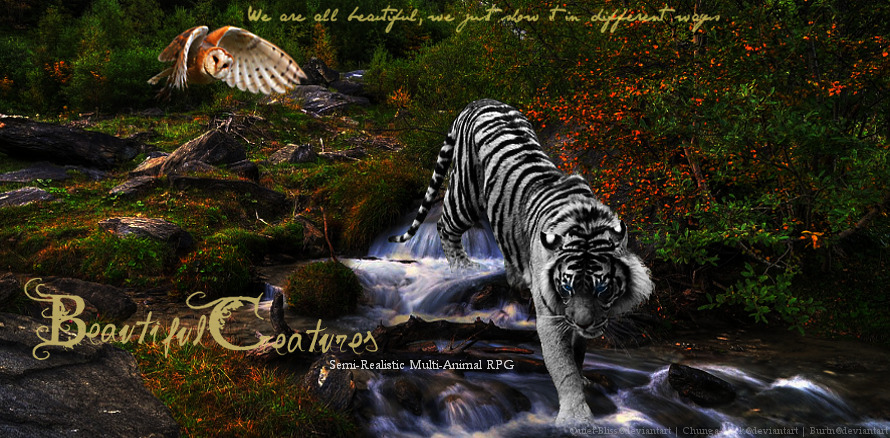 Beautiful Creatures
BC is a semi-realistic multi animal rpg where you can play as a feline, equine, canine, raptors, or even a bear. Join us today!

Neutral Grounds

Topics
Posts

Last Posts

The savannah is home to many herds of zebra, elephants and other herbivores eat and roam in these hot lands. During the rainy season the yellow, dry grass turns lush with green. This is when the herds come back to birth and eat the greenery.




Moderator:

Beta Banshee


0

0

Ekoh is a volcano at rest... For the time being. He has been asleep for decades and hasn't awoke since his last eruption which destroyed the city below his throne. Ekoh is very destructive when it blows and can kill many.




Moderators:

Myth, Alpha Titan, Odette, Beta Banshee


0

0

Closest to the sahlki plains yet safely away from the Lykoan pride, Aperi Calor is usually the hottest place in the territories. It has lots of sand and you can rarely find water, yet there will eventually be some. It is full of many lizards and some dessert animals.




Moderators:

Myth, Alpha Titan, Odette, Beta Banshee


0

0

Announcement & Sticky
Replies
Author
Views
Last Posts

4

Myth

440

on Wed Sep 30, 2015 4:44 am
Myth

2

Myth

286

on Thu Sep 24, 2015 11:59 am
Lead Kahuna Kialio

Users browsing this forum: None

Moderators:
Myth, Alpha Titan, Odette, Beta Banshee
Permissions in this forum:
You cannot post new topics in this forum
You cannot reply to topics in this forum


Staff Members




Site News

Beautiful Creatures is a newly re-created site and we just opened. Staff position's are open! If you think you got what it takes pm Myth. Speaking of Staff, congratulate Banshee on being our Head Moderator! BC is looking for people who can code on Forumotion, let Myth know if your interested in this spot. The pride and pack ranks have been updated so please make sure you view them. If there's any confusion please PM

Myth

. She will answer all of your questions.

Season Information

It's rainy season for the Southern lands. Down pours of rain fall from the heavens and onto the dry land that was starved from water. Rivers are flowing again and watering holes are filling up. There are some flooding where the rivers run, so be careful. The herds should be returning back. Hopefully prey is plentiful!

Spring is among the West, North, and Eastern lands. Plants are growing lush and trees are gaining their leaves back creating beautiful canopies. Herds are returning, bringing along their newborns. Far North the sun has returned. Polar bears are waking up from their deep slumber. Female polar bears and their cubs are heading to the ice sheets to go seal hunting before the ice melts. Hopefully the sun wont be too hot.




Year: 1st

Breeding Season: No

Birthing: No




Vote for BC

Beautiful Creatures was originally created and coded by

Myth

and her friend Khalseei. All pictures and context belong to Beautiful Creatures, unless stated otherwise. Do not copy.