Character Name:Sheila (Shei)Age:2 yearsSpecies:Arctic WolfGender:FemaleDesired Rank: OmegaCharacter Looks:
Shei has a white pelt, but unlike her mother's she isn't purely white. She has a faded grey mark on her forehead that spreads out along her face. The grey is mixed in with a light brown which is only shown in certain lighting while the grey is always visible, it does seem to look lighter at times. She carries the same mixture at the tufts of her ears and paws that are shaded a dark grey and brown, with black nail's to follow. A dirty dust of grey follows the back of her legs up to her stomach. Shei carries quiet a small build compared to her parents, just under average for the normal wolf. Instead of a broad, muscular build, Shei has a more lengthy slim build. Thin and long-legs hold Shei up. She isn't the strongest wolf, sticking to speed and stealth that lack for her strength. Her long leg's help her take longer strides than others. Dark black paw pads, followed with a long shaded scar dragged along its length of her left hind paw. Shei has dark brown golden eyes.
Pictures: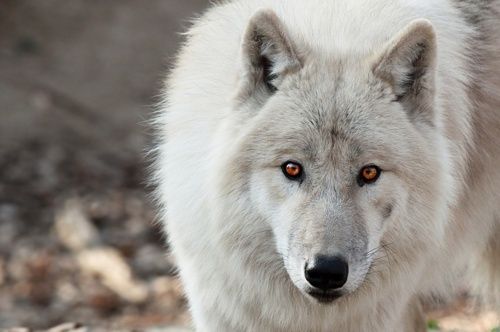 History:
Shei's first memories are filled with snowy cliffs. Her mother standing beside her glaring out into the distance of the snowy mountains before them. Her mother often left to go to her home, to her pack. Leaving Shei to defend for herself and learn on her own, but every once in awhile her mother would come and stay with her teaching everything she could in the short months they spent together. She remembers the stories she was told, about all the places her mother went, all the animals, wolves, packs, and her pack.
"Mommy... Why can't I come with you?" The young pup asked her mother. Guilt was all she saw in her mothers eyes. "Find a place for yourself. Someplace you'll cherish and do anything to protect. Find someplace like I have." Her mother bent down to her and stared straight into her eyes. "Just always make sure your happy, wherever you go."
Grinning her mother jumped onto the small pup. "But that's a long ways away from now! So don't worry about it you little runt!"  Shei never asked again. She spent her time learning to hunt, fight, speaking to her mother, and playing to her hearts content. Running through the snow chasing her mother, Shei was now a year and half. She was still very small compared to her mother, but she definitely was faster, pushing her dark frostbit paws into the snowed earth, she rushed past lifting her head to the sky as the world rushed around her. "Hey mom... Your not coming again are you?" She turned to her mother with sad eyes. "Why? There's no need, after all you can take care of your self now, Go on run along. Find someplace to call home." That's the last time she ever saw her Mother.
Theme Song:
Ivan Torrent - Before I Leave This World (Beautiful Orchestral) - YouTube
How did you find us?:
Myth
Joining Key:
Joining key's have been found and removed for  the fair joining of other's- Myth