Character Name:
ALCYONEUS
Age:
2 1/2 years old
Species:
Alexander Archipelago wolf
Gender:
Male
Desired Rank:
Solitary Animal
Character Looks:
His eyes are two different colors, his right eye is a sky blue while the left eye is a gold color. He has yet to gain any scars that are visible, his build is large and muscular. He is black with white markings. Those markings; a white dot just below each eye, a white band around his neck looks like that of a white collar, a greyish muzzle(Not of age), and the largest white marking is from that white band a stripe of black just below that is this marking. His belly is white a little side of his for-paws to his hind legs and his tail. However his back is all black except his white band, his tail has the bottom white and the top black.
Pictures: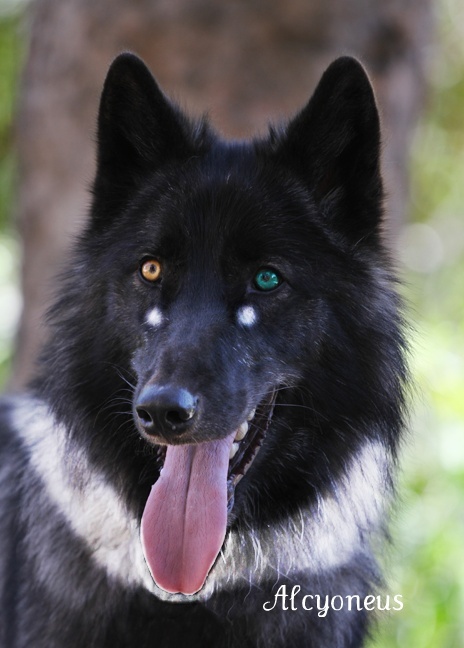 History:
The stench hung heavily in the atmosphere the scent worse then death it's self. A pack was invading...not just any pack but the Adístaktos pack. One of the most blood-thirsty and ruthless packs alive, they where known to kill anyone who got in their way. The darkness always seemed to welcome my coat, however I was never an "evil" or "bad" wolf, my mother used to tell me my coat was special because no other had she seen before had so much white and yet so much black. That the white was the light inside of me and that the black was the darkness that tried to creep it's way inside. My eyes seemed to be the same, golden like those of Adístaktos yet the other was blue like the good my pack was. When the pack was being taken over me and Kaleigh where chased out together. We where barely yearlings, yet we knew that many wolves left their pack at the age, but where we truly ready? Kaleigh's father was a warrior and mother a healer as for me I was born from the Guards of the pack. Our parents where friends and the longer I spent with Kaleigh the more we become closer friends. No one could be my best friend but Kaleigh, after everything we had been threw.
After being ran out from my pack I quickly began thinking about our survival. We needed to get far away, but we also needed a dry place to sleep, find food and fresh clean water. The first thing on my mind was to get as far away as possible, so that's what we did. We had gone days with out food when we finally found a place to settle down and stay for a while. Food was easy to come by and hunt, mostly he had gone after hare's, mice, rats, voles, birds, baby deer, and squirrels. However a day came when a old buck was nearly dead, we followed after and had a great meal. Never had we eaten so much, our belly's where full and we looked like pregnant she-wolves about to give birth. However this meal came with a price when a black bear came from the woods. It charged us and Kaleigh left the setting with a scar on her muzzle. After this we began practice hunting deer, it took us a while to take down our first one, but it wasn't to long. Once we had learned to hunt deer, a forest fire came. We had to leave and we did, oh I never wanted to leave her side, she is like a sister to me....but when this happened we where separated and I told her to keep going forward that I would find her no matter what. I did keep going forward but I couldn't pick up her scent, the rain had washed most of it away and the rest was covered by the stench of the burnt wood, grass, and even animals. Soon I came across a land that held a pack, a familiar scent had brought me here, but the scent was not of Kale, but some one from my past. So now I wonder around this border wondering who's scent that had stopped me on my journey.
I soon found my one and only true friend, Kaligh, at the border of a pack simply known as the Warped Souls Pack. Our reunion was sweet...but short. It pangs me that I am no longer with her, as I have traveled very far from that place. I told her that I wouldn't leave her, but she disappeared and I am still in search of her. We didn't get to join the pack like we were planning to. This brings me both sadness and joy, that pack wasn't what I wanted. Sure, it might have taught me how to be a follower and live my life in a pack, but some part of me doesn't want to be a follower. But how can I lead if I have never followed?
Scents have brought me to this strange, yet abundant land. Those of my blood, familiar and close yet so distant and out of reach. Has my nose fooled me once more? I knew of this scent, yet it is different than the one near the Warped Souls. I hear the calls of fellow wolves, but I wish not to join them yet. My first mission is to find the scent that has been driving me mad.
Theme Song:
Main Theme:
They Hit Without Warning By: Epic Score
Without voices-
Others:
How did you find us?:
I was on the old site as a bear, Saku.
Joining Key:
To kill a mockingbird...